Add a touch of elegance to your wedding by renting our wedding limo service
We believe in making your big day an amazing one by providing the exceptional wedding limousine service. Our efficient chauffeurs realise the
importance of your wedding day and strive to make your experience an unforgettable one.
We understand that you deserve the best on your wedding day
Due to an extensive experience of our chauffeurs, we know that you would probably fuss about everything to be perfect on your big day. We are here to reduce your anxiety by helping you in every way we can. Not only do we offer luxury rental cars for weddings, but we also help our valued clients in organising the entire schedule beforehand. We help you in selecting a car and choosing the decoration. Also, we practice for the grand entrance so the timings of our entrance and farewell can be nothing short of perfect.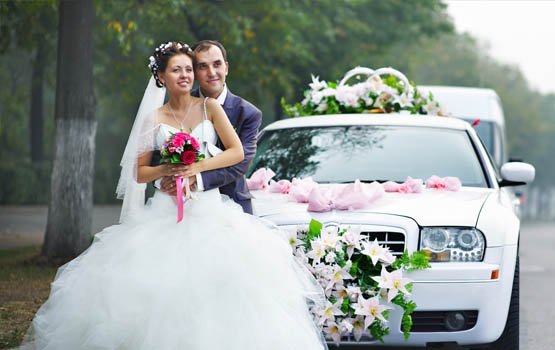 Theme
To meet your needs, we offer specially designed packages tailored to your requirements. If you are having a themed wedding, we prepare the cars and attire of the chauffeurs accordingly. We give you the option of choosing from your favourite flowers, ribbons and much more.
We have an outstanding reputation for being the best at providing luxury car hire for weddings

Why Choose Us for Your Big Day?
We are focused on providing the best customer service possible
Usually, the wedding day is full of hassle. We exceed your expectations by ensuring that your big day runs smoothly without any trouble and chaos. There are various reasons as to why you should book us for your wedding day:
Our limousines are immaculately clean
We service our cars every day for outstanding maintenance
Our chauffeurs are skilled and experienced
We treat our clients with respect
We take necessary precautions for your wellbeing and safety
Our Vision
We aim to provide top-notch services at competitive prices. Our chauffeurs strive to provide you with once in a lifetime experience regarding wedding limousine service. We provide a wide range of luxury new and antique wedding cars. Whether you hire us for the transportation of your guests or driving the bride to the chapel, you can be sure that you would be treated like royalty and your choice will surely impress your guests.
We are ready to serve you at just one phone call. Please contact us at 1300 24 27 46.